Pre Primary early years' assessment policy aims at understanding development needs of children from 2 years to 5 years. This is not a formal testing, rather an attempt to help them acquire foundation skills. Keeping in mind their development needs and age requirements, Pre Primary, follows a continuous formative evaluation system with the purpose of supporting learning, guiding instruction and evaluation. This entails mapping daily progress through
• Observation
• Worksheets
• Report Card
• Portfolio

EXAMINATION SYSTEM
CLASSES I-V
The session will be divided into two terms. Each term will have two periodic tests. Term I will be from April - September and Term II will be from October - March. There will be four periodic tests in all, which will be taken in the form of pen-paper tests. The distribution of syllabus and marks will be as follows: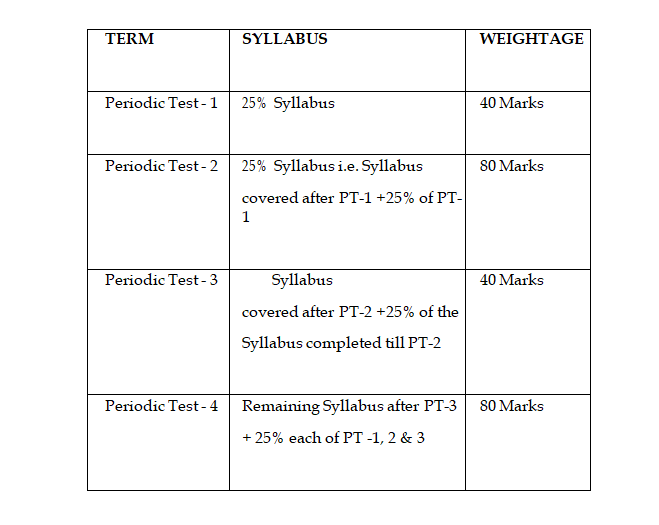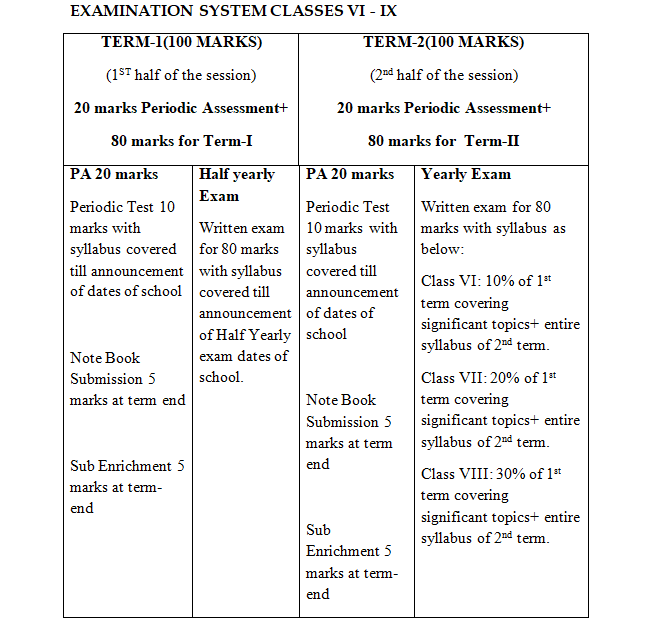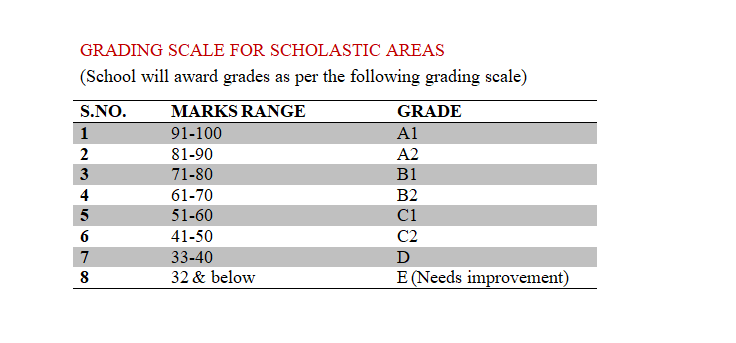 CO-SCHOLASTIC ACTIVITIES:
For the holistic development of the student co-curricular activities are carried out and are graded term-wise on a 3-point grading scale (A=Outstanding B-Very Good and C=Fair). The aspect of regularity, sincere participation, output and teamwork is the generic criteria for grading the following co-scholastic activities:
(a) Work Education- Work Education refers to skill-based activities resulting in goods or services useful to the community.
(b) Art Education (Visual & Performing Art)
(c) Health and Physical Education (Sports/Martial Arts/Yoga)

DISCIPLINE:
The students are also assessed for discipline which is based on the factors like attendance, sincerity, behaviour, values, and tidiness, respectfulness for rules and regulations, attitude towards society, nation and others. Grading on Discipline is done term-wise on a 3-point grading scale (A=Outstanding B-Very Good and C=Fair).

INTERNAL ASSESSMENT:
(a) Notebook Maintenance is assessed before the end of each term on the following parameters:
• Regularity
• Assignment Completion
• Neatness and Upkeep of Notebook
(b) Subject Enrichment Activities comprise of techniques like ASL/Reading/ Dictation/ Debate/ Public Speaking etc. for languages. Lab Activities/ Projects/ Map Work/ Model Making/Field trips etc are conducted for Science, Social Science and Mathematics throughout the year.